About Digital Technology Center in Prague and Brno
Digital Technology Center (DTC) in Prague and Brno provides
Commerzbank
and its end customers with a wide range of various IT solutions from creative .Net, and Java development to agile production projects in application operations and infrastructure teams.
Commerzbank AG
is a leading international commercial bank, the second largest German bank. Commerzbank has a presence in almost 60 countries with almost 48 thousand employees globally. Commerzbank is the majority shareholder of mBank.
Technology center serving Commerzbank since 2005
500 IT professionals and enthusiasts
Based in the city centers
Prague, Karlovo náměstí, and Brno, Veveří
Building new banking applications from scratch
Mobile Banking apps ranked among the best (4.7 in App Store, 4.6 in Google Play)
19 million end users all over the world
Diverse teams come from 60 different countries
It's time to move. We have the ground. You have the skills?
Join us
Why join us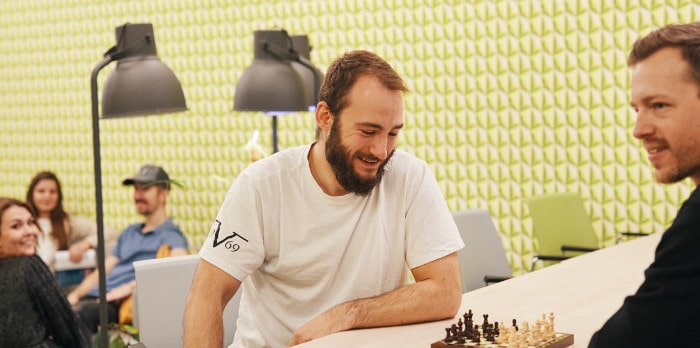 Freedom and independence to create your own job with your own vision.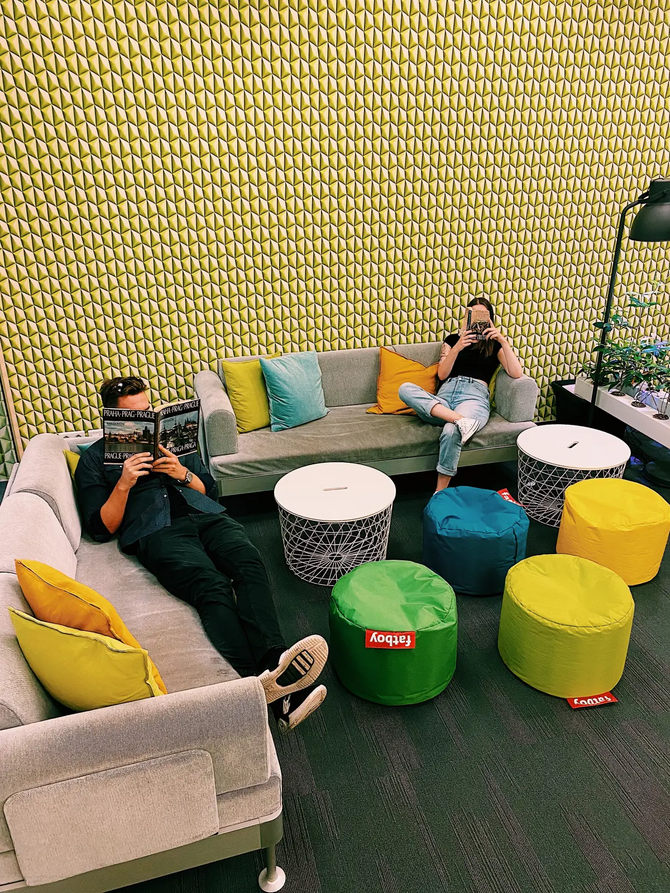 Relaxed atmosphere full of casual and open-minded people.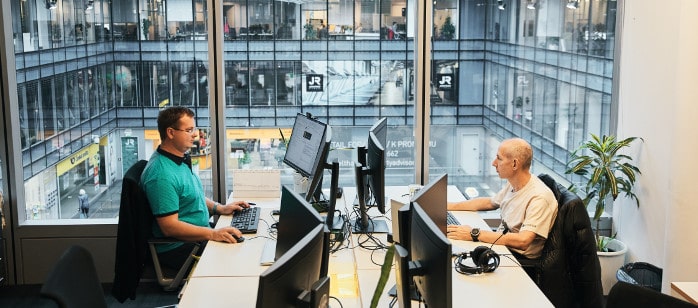 Time flexibility and space to do your job right.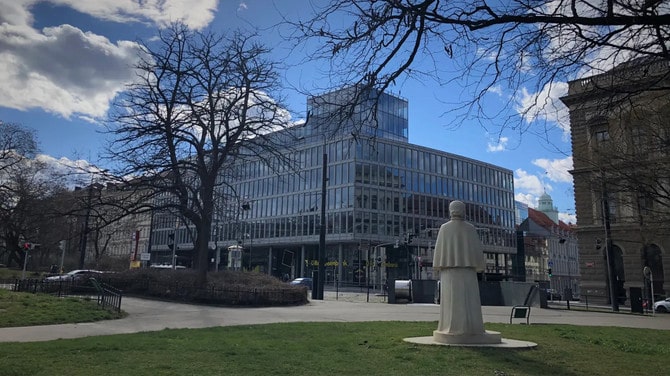 Shaping the future IT solutions in finance industry right in Prague.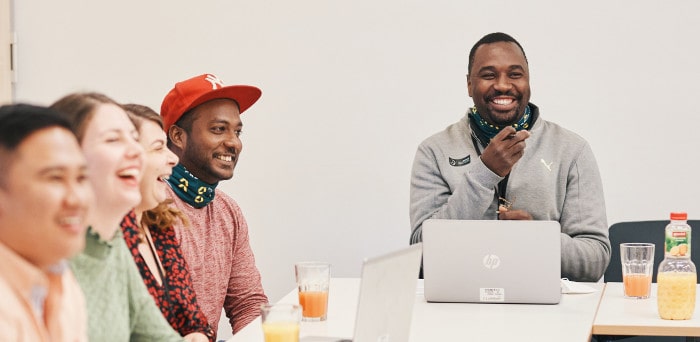 Sandbox for testing modern solutions in an agile environment for years.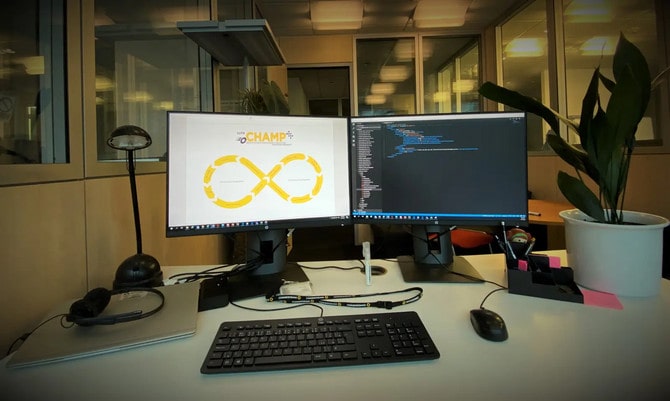 Working and live code no drawer-based solutions.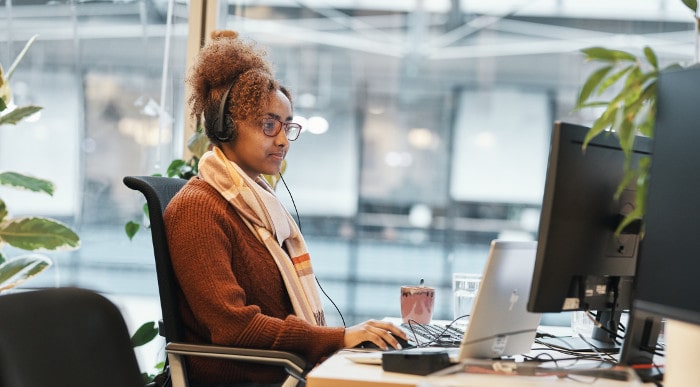 English on everyday basis as we are from multinational working teams.
Medior and senior professionals to learn from.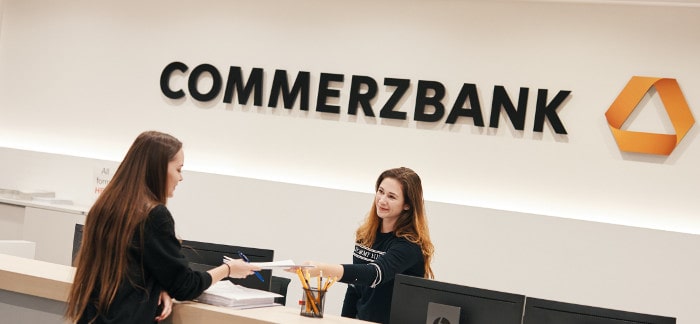 From design to implementation of innovative solutions.
Perks and benefits
6 weeks of vacation + 6 sick days
Long-term sickness allowance
(up to 30 working days per year, 100% salary compensation)
Flexible working time and home-office
Professional training and conferences
Public transport allowance
(100% compensation)
Financial contribution for meal vouchers
Pension insurance contribution
Special financial conditions by mBank
A cafeteria-style benefits plan
Technology, solutions and dev stack
Every project requires a dedicated approach and an appropriate tech stack to ensure that its scope will be delivered on time.
Digital banking – online & mobile apps

CI/CD

GitOps
Automated pipelines

Innovative solutions

Payment API

CyberArk
Google cloud platform

MS Azure etc.

Building new banking apps from the scratch
Career opportunities
FAQs
We have compiled a list of most frequently asked questions at the interviews for your convenience.
What is the process after I apply?
You will be directed right away to one of our IT tech guys and the manager. We keep the process as quick and relevant as possible, to ensure that we are on the same page.
Can I meet the team and get to know the atmosphere?
Definitely! We are happy to introduce you to the team, the way we work, and show you everything aroundconnected with it. It is important to see if we click before you make your decision to join us.
What type of co-operation do you offer?
We prefer a full-time employment contract, to ensure security and compliance are met on the highest possible levels. But if you have different needs regarding the type of co-operation, we still want to hear from you. Just hit the reply button in for the respective position of that you are interested in, and type in your requirements into the comments box.
Do I need to have experience from the finance/banking industry?
Absolutely not. You can get easily by without any previous experience from the finance industry (apart from a few specific cases, such as business expert positions).
What time flexibility do you offer?
Our aim is to ensure everyone has the freedom and the time to do the job right. You can discuss your flexibility needs with your manager.
Is there a potential for growth?
We offer both technical and managerial growth. DTC is a diverse environment, with dozens of teams/projects, and if you feel you need to change you project/team, you will get all the support you need. We also engage our people in internal promotions - the majority of our leads worked their way up from specialists roles.
What management style do you pursue?
We strive to create an enjoyable work environment, where teams have a space for open discussions and are self-managed. It is them who make it happen every day, rather than managers telling their teams what to do. The organizational structure is rather flat, and you would know your manager's manager by name.
What is your dress code?
Although we are part of the bank, you can dress comfortably and the way you like.
What kind of trainings do you offer?
You can get professional IT trainings in various fields up to certification level and language courses as well.
Can you help with my relocation?
We will support your relocation to Prague with 50% gross monthly salary within Czech Republic. If coming from abroad, we support your relocation to Prague with 100% gross monthly salary. If needs be, we can help to get your visa.
Life at DTC
Enjoy modern offices in Prague at Karlovo náměstí with a relax corner where you can recharge your batteries, meet amazing multicultural colleagues and so much more!
Office in Prague at Karlovo náměstí
Office in Brno at Veveří
Smart office in Brno, near the city center, Veveří
Our events